them that are of.................The Way
Chapter 4
Road To Damascus
But, in the future, not everyone is a Christian! Consider these two citizens. Drinking buddies, that go by the names JUP and PEB.
Why the funny outfits?
Well, they're cops.

"---unit 809---report immediately to J4900---emergency code 7--suspected terrorist activity-----"
"The report says the Way group might be involved. I hate them."
"I hope we get to kill some of them"
"JUP, some times you like your job a little too much."
"Where are we? Looks like a school."
---
(a short while earlier)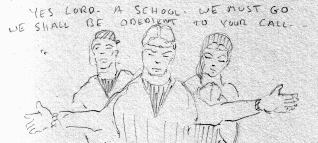 "Yes Lord, a school--we will be obedient to your call."
"Oh Lord!!---the children must be saved!!"
---
"I'm powerin' up."
"What?--You don't even know what's inside---"
"Just shut up and back me!"
"Yes children, you must get outside the building right now."
"They're safe--thank God!"
"You people! What do you think you're doing?"
"You killed them--just to make your grand entrance!"
"And you will be next."
"We see what you've done here. Interfering with a government institution. It's illegal."
"We were sent here by the Lord God Jehovah."
"God!--There is no God but EMP! Are you of the Way?"
"Yes"

"Then I know how you will die"
"What? No JUP, you don't have to do it that way!"
"Shut up PEB--this is the way that suits them. Post this up on the 'net so everyone can watch a terrorist wriggle while they die. Maybe our friend here will tell you about crucifixion--while he suffocates."
"......this--is the way our Savior died. our Savior who loved us--Jesus--God who became a man--to love and serve us--so far that He died to save us all.."
"Well, it doesn't look like he's saving you now!"
"...Jesus died, but He rose from the dead...to conquer death for all that believe---believe--that is all that Jesus asks....this building is going to blow up any second.....there's a bomb....that's why He sent us here...to save the children....please believe me.....leave while you can....."
"No! It's a lie! .....PEB! Where are you going?!"
"PEB!! Get back here! It's a lie!--I'll report you for this!"
"....it's still not too late.....ask Jesus to save you..."
"No!"
"Wha--?!"
---
go to the next page----->
go to chapter: 1---2---3---5---6---7---8---9---10---11---12---13---14---15---16---17---18---19