THE BLOOD COVENANT
By Andrew Sandala
In the beginning, God made man and man recognized God as the sovereign being who created the earth and all its inhabitants. When men realized the goodness of God, they began to appreciate him by giving back to Him, the blessings that He lavished upon them. One of these ways they said thank you was to make an offering or a gift, to God. In Genesis 4: 3-4, We find two brothers with different occupations, bringing offerings to God. Cain was a tiller of the ground and naturally he brought products from the soil. His brother, Abel, was a keeper of flocks. Both men, in gratitude, brought their offerings to God, the one who made the offering of an animal was regarded by God and this actually made Cain angry. Look at v.7 when God said to Cain, "If you do well, will not your countenance be lifted up?" Was God saying that the sacrifice of a living animal pleased Him?, If He was, lets find out why.
BLOOD
Blood is the vital fluid of life the Bible says in Leviticus 17:11, "..the life of the flesh is in the blood." Life is precious to God and apparently if you lost blood for any reason, in most cases, the doctors would find another person with your kind of blood and put it into your body just so that you can LIVE. With this in mind, we clearly see that, blood shed in the presence of God or for God means a lot to Him.
What then ? Sacrifice for sin or act of gratitude?
Originally, a sacrifice was simply a gift, an expression of love and gratitude. In the long run, the blood offering went beyond the idea of a mere gift, this costly gift of life became a representative way of offering ones own life through the blood of the sacrificial animal. The innocent and pure animal was given in place of the sinful man's life. Note that Jesus had to meet these conditions also to be a perfect sacrifice for the sins of mankind, innocent and pure. The bible says "He made Him who knew no sin to be sin on our behalf, that we might become the righteousness of God in Him," 2 Corinthians 5:21.
Blood sacrifice, an atonement for sin
Leviticus 17:11, "For the life of the flesh is in the blood, and I have given it to you on the altar to make atonement for your souls; for it is the blood by reason of the life that makes atonement." Hebrews 9:22, 'And according to the LAW, one may almost say, all things are cleansed with blood, and without shedding of blood there is no forgiveness'. As much as the importance of blood was to make atonement for sin, it was also used to make a covenant. In Genesis 15:9 God said to Abram later called Abraham, to bring Him various living creatures and sacrifice them, and in v18, the bible records that, on that day the LORD made a covenant with Abram.
What is a Covenant?
A covenant is an agreement, and agreements are usually made between two parties. We must also keep in mind that most times an agreement is made there are conditions to it, i.e., it will only be in effect if a certain condition is met or it will only last if a condition is kept and if the covenant can be declared null and void.
Israel's Covenant with God.
In the Old testament, we find that God made a covenant with the Israelites, in which people were bound to the word "sacrifice," in order to cleanse them from sin and reconcile them to God. After all this God simply required them to be absolutely obedient to Him, and he would bless them. So the agreement was made. The covenant would only exist if the conditions were met, if not, it was done away with. Deuteronomy 7:9, says 'ÉHe is God, the faithful God, who keeps His covenant and His loving kindness to a thousandth generation with those who love Him and Keep His commandments;', so we find that, for as long as the Israelites kept God's commandments, He kept His part of the bargain to bless them. Conditions are not kept or met:- Hebrews 8:7, For if that first covenant had been faultless, there would have been no occasion sought for a second.
Fault ?, What fault ?, Who's fault?
HOLINESS - ( Separation or absolute Obedience, godly) :- Israel did not honour the covenant with God, They followed after idols and engaged themselves in immoral practices. God demanded total commitment and separation to Him from the worldly practices. Peter, in chapter 1 and v.16, echoed the words of God in Leviticus 11:44, He said "You shall be Holy, for I am Holy."
Jesus, the sacrifice and mediator of the new covenant
We should understand that the terms of God did not change in the new covenant. Hebrews 10: 16-17, reads "This is the COVENANT that I will make with them after those days, says the Lord: I will put My laws upon their heart, and upon their mind I will write them," He then said " and their sins and their lawless deeds I will remember no more." And the ultimate goal is to present to Himself the Church in all her glory, having no spot or wrinkle or any such thing; but the she should be Holy and blameless, Ephesians 5:27. It is important to understand the part blood played in the Law of atonement and that it is the means by which Christ Cleanses us from dead works, if we believe that He bled for us. In Him we have redemption through His blood, the forgiveness of our trespasses, according to the riches of His grace, Ephesians 1:7. Luke 22:19-20, Jesus said, "This is My body which is given for you" and v20, "this cup which is poured out for you is the new covenant in My blood.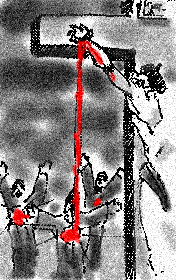 The sacrifice: Hebrews 9:13-14, É if the blood of goats and Bulls and ashes of a heifer (acts of old covenant) sprinkling those who have been defiled, sanctify for the cleansing of the flesh, how much more will the blood of Christ, who through the eternal Spirit offered Himself without blemish to God, cleanse your conscience from dead works to serve the living God?.
The Covenant
Hebrews 9:15, ÉAnd For this reason He is the mediator of a new covenant. Notice that Jesus both the sacrifice and the mediator of the new covenant . This shows us that Jesus had to understand both parties (God and us), in order to become the go-between.
He became human....
1. so that he could sympathize with our weaknesses, having been tempted in all things (Heb 4:15).
2. so that he might fulfill the requirements of the LAW concerning atonement of sin (Heb 9:22) ..Without shedding of blood there is no forgiveness.
3. In order to provide a perfect sacrifice because He was innocent and pure
4. To set an Example of absolute obedience by doing the will of God
Jesus, by dying, also effected the new covenant because it is written in Hebrews 9:17, that "..a covenant is valid only when men are dead, for it is never in force while the one who made it lives. Covenant is two way:- Remember we said that a covenant is an agreement between two parties, well the other party is you and me and since Christ died as a man to effect the new covenant, we have to die as well for it to mean something to us. 2 Corinthians 5:15-17 reads, ÉHe died for all that they who live should no longer live for themselves, but for Him who died and rose again on their behalf. Therefore from now on we recognize no man according to the flesh; even though we have known Christ according to the flesh, yet now we know him no longer. Therefore if any man is in Christ, he is a new creature, the old things passed away; behold, new things have come. What the First covenant failed to accomplish, the new covenant, through Jesus Christ succeeded when Jesus said, "It is finished." Man is now able to be what God wants him to be and to keep the LAW of God in his heart. To run after God and not the evil practices of the world. This, the first covenant failed to achieve because the Spirit of God did not dwell in men to cause them to obey the LAW. Romans 8:7 reads, Éthe mind set on the flesh is hostile towards God; for it does not subject itself to the law of God, for it is not even able to do so and in Ezekiel 36:27 says, "..I will put My Spirit within you and cause you to walk in My statutes, and you will be careful to observe My ordinances.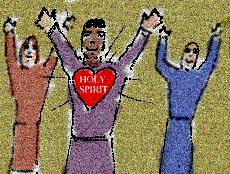 Let us obey God as He is Lord of our lives, "We have been bought with a price" (1Corinthians 6:20) But don't forget He loves us so much, that he has blessed us "With every spiritual blessing in the heavenly places in Christ," (Ephesians 1:3) Let us keep the covenant, God bless.
All scripture, unless otherwise mentioned, is taken from the New American Standard Version
Friends - 1998
---
Illustrated Bible Studies......Seeds Home Page......Free Tract Page.......Browser Tracts......Jumpstart Bible Studies.....Friends Home Page......John 3:16 page.....Jesus Cards Page......List of Cristian Tract Publishers.....Our Favorite Links......Internationsal Tracts Page