You Are You And God Loves You!
Does God love you? Or, does God love your behavior? Perhaps I could rephrase this question in another way...Are you your behavior?
Now, wait a minute, you say...every Christian knows that God loves them....need some scriptural proof? Okay here goes....
---
Deuteronomy 7:13 "And he will love thee, and bless thee, and multiply thee: he will also bless the fruit of thy womb, and the fruit of thy land, thy corn, and thy wine, and thine oil, the increase of thy kine, and the flocks of thy sheep, in the land which he sware unto thy fathers to give thee."
John 15:9 "As the Father hath loved me, so have I loved you: continue ye in my love."
Romans 5:5 "And hope maketh not ashamed; because the love of God is shed abroad in our hearts by the Holy Ghost which is given unto us."
Romans 5:8 "But God commendeth his love toward us, in that, while we were yet sinners, Christ died for us."
Romans 8:35 "Who shall separate us from the love of Christ? shall tribulation, or distress, or persecution, or famine, or nakedness, or peril, or sword?"
Romans 8:39 "Nor height, nor depth, nor any other creature, shall be able to separate us from the love of God, which is in Christ Jesus our Lord."
Ephesians 2:4 "But God, who is rich in mercy, for his great love wherewith he loved us,"
Ephesians 3:19 "And to know the love of Christ, which passeth knowledge, that ye might be filled with all the fulness of God."
1John 3:1 "Behold, what manner of love the Father hath bestowed upon us, that we should be called the sons of God...."
1John 4:8 "He that loveth not knoweth not God; for God is love."
1John 4:16 "And we have known and believed the love that God hath to us. God is love; and he that dwelleth in love dwelleth in God, and God in him."
---
Now...is it clear that God loves you? But here is what you need to know...the Greek word for love is "agape"...it means unconditional love...God loves you perfectly, without conditions! We have a hard time understanding this kind of perfect love that God has for us, (He is love!) because in life we probably have not experienced this kind of love from other people...no one loves you like God does...He has perfect love for us, and He is perfect love!
Now, remember what I asked you at the beginning...
Does God love you? Or, does God love your behavior?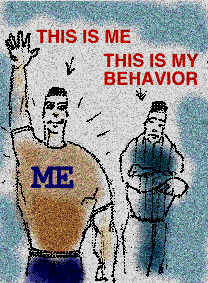 The answer obviously is that God loves you...exactly the way you are...after all He created you the way you are...right??
Listen, I know that God loves me...but I also know that sometimes I behave the way He would like, and other times I don't behave the way He would like. Sometimes God likes my behavior, and other times He doesn't like my behavior.. As long as my sin is under the blood of Jesus, God does not see my bad behavior...and through it all, He loves me because....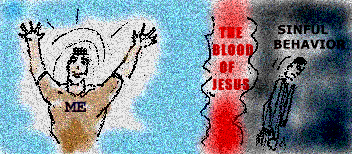 I AM NOT MY BEHAVIOR!!! I AM ME AND GOD LOVES ME! ALWAYS! GOOD OR BAD! and you know what?.... YOU ARE NOT YOUR BEHAVIOR! YOU ARE YOU AND GOD LOVES YOU ALL THE TIME! HE ALWAYS LOVES YOU, PERFECTLY, IN A WAY THAT NO ONE ELSE DOES, AND IN A PERSONAL WAY, AN UNCONDITIONAL WAY!
Know this, the devil is the one who loves to come around and accuse you when you make a mistake, he works at it day and night...!
Revelation 12:10 "And I heard a loud voice saying in heaven, Now is come salvation, and strength, and the kingdom of our God, and the power of his Christ: for the accuser of our brethren is cast down, which accused them before our God day and night."
Don't listen to the voice that says "God doesn't love you because you sinned, because you made a mistake"...that's the devil talking...bringing guilt and condemnation. You just tell him this...!
Romans 8:1 "There is therefore now no condemnation to them which are in Christ Jesus, who walk not after the flesh, but after the Spirit."
Remember you are you and God loves you!
---
GO TO:
Illustrated Bible Studies......Seeds Home Page......Free Tract Page.......Browser Tracts......Jumpstart Bible Studies.....Friends Home Page......John 3:16 page.....Jesus Cards Page......List of Cristian Tract Publishers.....Our Favorite Links......Internationsal Tracts Page